This iPhone is pretty handy for snapping photos of little things right as they come up. Here's a sampling of what I've encountered.
This is right after Gabe picked me up from the airport. We're driving north towards Kaneohe. I was astounded by the beauty.
This is, as you can most likely gather, a Spam musubi. It is an island favorite, just not one of mine. The love of Spam here continues to confuse me.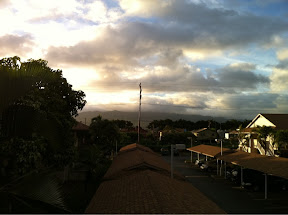 This is the view from our lanai (balcony). We face roughly northwest toward the mountains, which you can't see through the clouds here. Our place, once we move into it, will face east toward Waikiki and the rising sun.
This is poke. We've already discussed my love affair with it.
We were at lunch in Haleiwa. It was a beautiful day. I was stunned.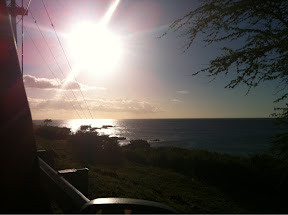 Sunset over Waimea Bay from the same day. The cables do not, as it might appear, extend out into the ocean. They're running into the ground for support.
Graffiti in the bathroom at Ewa Beach park. Spelling isn't a strong suit of Hawaiians. Also, chicken?
I saw this cloud while waiting for the bus. It's shaped like Oahu. I thought it was pretty cool.
This is a Russian couple I rode on the bus with. I couldn't tell if they were tourists or immigrants. I like his pink backpack. It had flowers on the front.
That's it for now. Aloha!